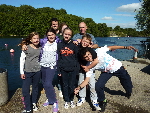 Congratulations to Blue team
Well done to Caitlin, Bethan, Ellie and Ford For completing there PADI Junior Openwater diver on 31st August 2014. Brilliant job. Thank you to Richard , Dorothy and DM John for all there help. And a big thanks to the Parents for there support. Getting up early and Cakes!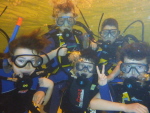 New PADI seal team starting September
this years new seal team starts September 19th 2014. Limited spaces available. Please contact me as soon as possible if your child is 8 years to 10 and wants to learn to scuba over 5 sessions one every 3 to 4 weeks finishing for Christmas.

Aquaturtle team
Well Done to my Traininee Divmasters. Helped make the day run smoothly with lots of fun. Thank you

Young Dry Suit Divers
Congratulations to Iwan. Harry and Jasmine for completing There PADI Dry suit Specialty diver Course. Well Done. All had great Dry diving day.