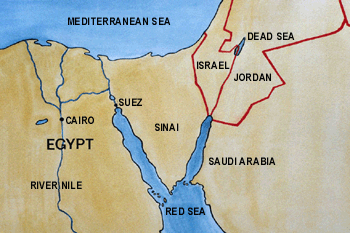 Aquaturtle offers Red Sea Holidays for Students and Club members Only. PADI Dive courses are offered on these trips from beginner's to Instructor. What makes the trips special is you have the opportunity to join escorted trips as individuals or groups. You will be escorted by Trevor Wiltshire who has lived and worked in the Red Sea for the past 10 years. He is a PADI Master Instructor who has trained over a thousand students to dive. He is very familiar with all the dive sites on the Sinai Peninsular
Locations include: -
Sharm el Sheikh
, Dahab, Hurghada, Marsa Alam, Nuweiba, Safaga, El Gouna and Eilat.
Types of Red Sea holidays we offer:-
·
Shore based trips.
·
PADI dive training courses from beginner to Instructor.
·
Liveaboard dive trips.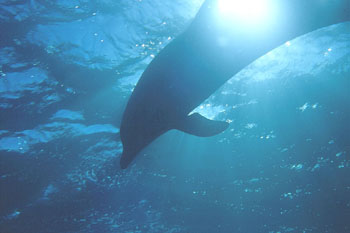 Bottlenose Dolphin often seen on Liveaboard trips.
Photo by Trevor Wiltshire
Shore Based Trips
Aquaturtle offers a number of set holidays for individuals and groups to join escorted trips to the Red Sea through out the year. This is a great way to have fun and meet new dive friends. You can also book your independent holiday through us.
You do not have to be a diver to come to the Red Sea. It's a great place to come to relax and enjoy the sun all year round. Scuba diving is one of the great attractions of the Red Sea. Warm crystal clear water, an abundance of marine life with well organised dive centres and dive boats.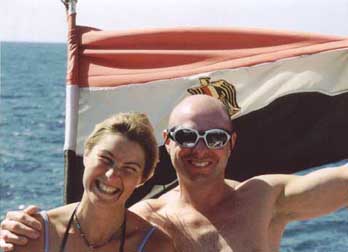 Your Divemasters Becky & Trevor
For those wanting to dive you normally have a 5 day dive package consisting of 2 boat dives per day. You will have the opportunity to make a third dive or a night dive for an extra fee. We will arrange a dive package to suit you.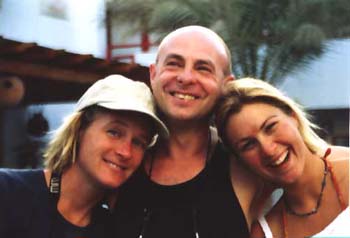 The Team: Lara , Becky and Trevor
Back to Top
Hotels
There are many hotels to choose from. But to give you an idea of the standard we use here is an example in Sharm. For most of our trips to Sharm el Sheikh we choose the Hilton Dreams Hotel. All rooms are comfortably furnished and air conditioned with private facilities, TV, fridge, telephone, hairdryer, mini bar and balcony. Facilities include five outdoor swimming pools, children's pool. Four restaurants: main, Italian, Chinese and a pool bar.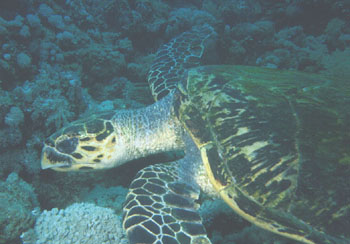 Hawksbill Turtle. Photo by Colin McFarlane
Back to Top
PADI Dive Training
During the weeks diving you will be given the opportunity to further your diving skills and knowledge by taking part in one of many PADI dive training courses. You may like to complete your four Open water dives to achieve the PADI Openwater Diver certification or you may like to learn about Deep dives or learn about Turtles. There are many courses on offer to choose from. See Diving courses section for more details.
We will arrange everything, Flights, transfers, hotels, diving, insurance and dive equipment if required.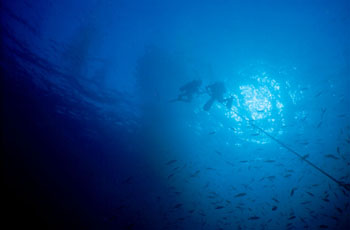 Divers on the PADI Deep Diver Specialty course. Photo by Trevor Wiltshire
Back to Top
Livaboard Dive Trips
For those who would like to get away from the crowds and have the opportunity to dive 3, 4 or even 5 times per day then you should consider a liveaboard trip. Here you just eat sleep and dive. No getting from the hotel to the boat in the morning. Then travelling perhaps 2 hours before finally kitting up and diving. In the morning you simply walk up on deck sit into your dive gear stand up, buddy check then dive.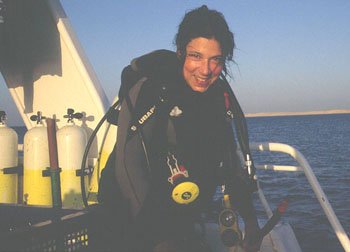 Claudia after an enjoyable dive on a Liveaboard
You may have heard of many boats overcrowded. Aquaturtle has small groups from 6 persons to 12 normally. But larger groups are catered for on request. On the boat you can take things easy. The dive site are less dived and there are many opportunities to dive wrecks.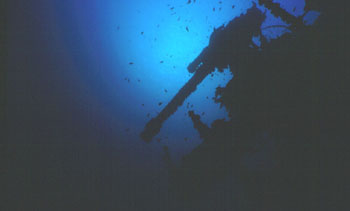 Anti Aircraft Gun on the Thistlegorm wreck. Photo by Trevor Wiltshire
We organise a number of set escorted liveaboard trips through out the year catering for individuals and groups. As for shore based trips a full range of PADI dive courses are available on these trips but you do need to have completed your PADI Openwater course or equivalent before embarking on the trip.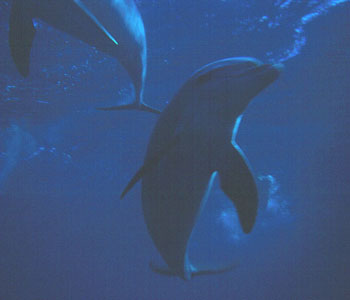 Dolphins often play with us on our liveaboard trips. Photo by Trevor Wiltshire
We use many liveaboard boats for our trips according to the group and time of year. They range from the luxury on suite, air conditioned to the more basic vessels according to the group requirements. If you have a group of six divers minimum I can arrange a trip for you. All the boats used are checked out and recommended.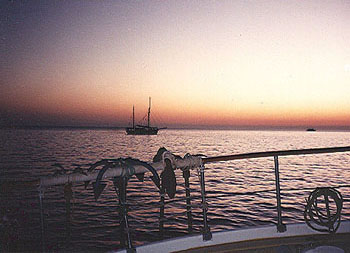 The sun set view after a perfect day. Photo by Trevor Wiltshire
Back to Top